In March 2018, President Donald Trump signed official proclamations to adjust aluminum tariffs to 10 percent under Section 232 of the Trade Expansion Act of 1962. The president's decision followed an investigation into the national security implications of imported aluminum that was launched in April 2017.
While the Aluminum Association appreciates the president's attention to the domestic aluminum industry, across-the-board tariffs won't address the fundamental problem of massive aluminum overcapacity in China. The domestic aluminum industry is growing – creating American jobs and committing or investing more than $2.6 billion since 2013 to expand U.S. manufacturing. But subsidized production in China, which is leading to unfair and illegal trade practices, threatens the industry's continued health.
China's illegal subsidies to producers of both primary aluminum and semi-fabricated aluminum products have resulted in significant overcapacity in the market, hurting the plants and people of the U.S. industry. Chinese primary aluminum overcapacity continues to grow unabated, significantly distorting markets and encouraging illegal dumping. Excess capacity alone in China last year totaled 11 million metric tons of aluminum -- 40 percent of the rest of the world's total production of 27.5 million metric tons.
"The president's decision represents an opportunity to engage our critical trading partners on addressing persistent Chinese aluminum overcapacity," Aluminum Association President & CEO Heidi Brock said in a statement following the tariff signing. "Now is the time to negotiate a long-term, enforceable agreement with China that tackles this perennial problem once and for all."
The Aluminum Association's Approach
The Aluminum Association is the leading voice for the U.S. aluminum industry, representing aluminum firms across the value chain, from primary producers to value added aluminum processors to recyclers to suppliers to the industry. Since the Section 232 remedy was announced, the Aluminum Association has worked with members to share the views of the domestic industry.
In outreach to the administration and others, the Aluminum Association has called for:
Instead of across-the-board tariffs that could disrupt supply chains and undermine efforts to work with trading partners that share our concerns about China, the aluminum industry is proposing:
▪ Permanent, quota-free tariff exemptions for all countries designated by the Commerce Department as market economies;
▪ The creation of an aluminum import monitoring system to ensure that no unfairly traded metal is entering the United States;
▪ A continued tough stance on trade enforcement through targeted actions on products benefiting from illegal government subsidies;
▪ Immediate government-to-government negotiations with China to address the trade distorting practices that drive structural aluminum overcapacity.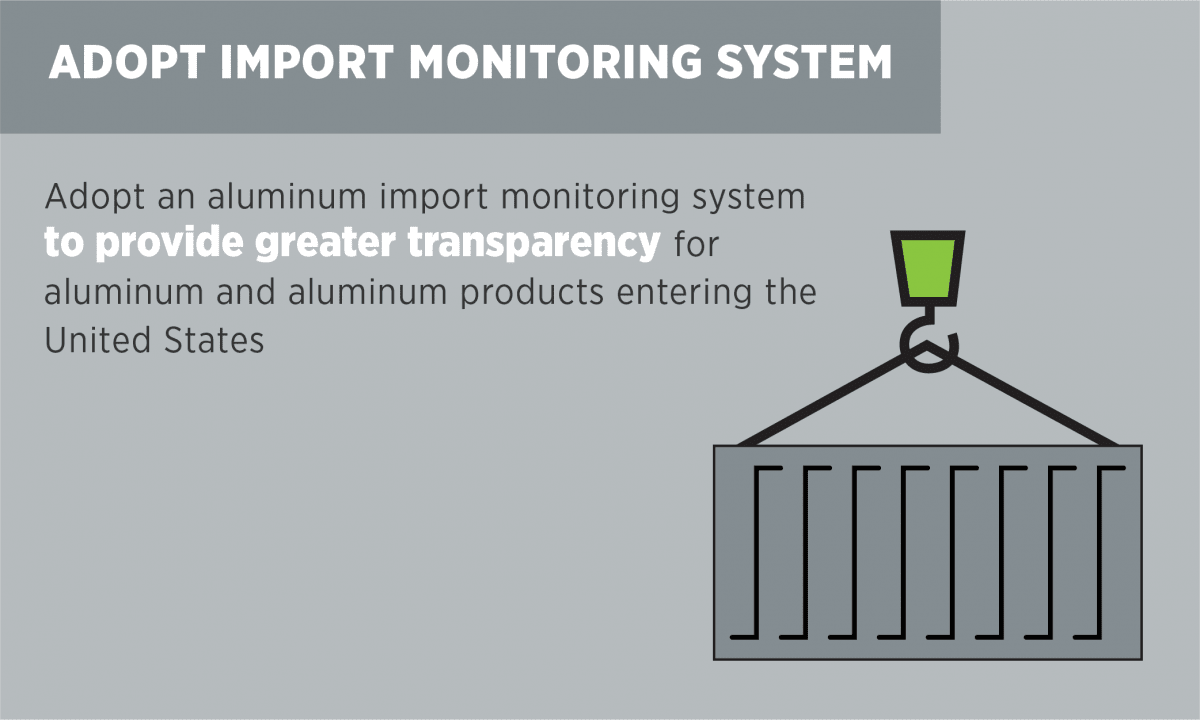 Taking action, the Aluminum Association released a joint letter with the European, Canadian, Japanese, Brazilian and Mexican aluminum associations urging G20 leaders to enact a global forum on aluminum excess capacity.
In an additional letter to the president; a presentation at CRU's World Aluminum Conference; an op-ed on CNBC.com; in media interviews and directly to policymakers, the association argued that the administration should focus efforts on China .
In a recent op-ed, the association noted that that the U.S. aluminum industry is heavily reliant on imported metal to meet growing demand. Even if we brought every U.S. aluminum smelter back online tomorrow, we could not produce nearly enough primary aluminum domestically to satisfy growing demand. The U.S. produces less than 1 million metric tons of primary; our total capacity is less than 2 million metric tons; and we consume between 5 – 6 million metric tons. Disrupting supply chains threatens record demand for aluminum and the 97 percent of U.S. aluminum industry jobs in mid-and-downstream processing.
"Efforts to strengthen U.S. aluminum will only succeed if we all recognize the industry's global interdependence and maintain a laser-like focus on the real problem: structural overcapacity in China," Brock wrote.
In the words of the president's new National Economic Council Director Larry Kudlow: It's time for the U.S. to "lead a coalition of large trading partners... to let China know that they're breaking the rules."
We agree.
Addressing Chinese Overcapacity
North America recorded its eighth straight year of consecutive aluminum demand growth in 2017, up 45.1 percent since 2009. The estimated 27.2 billion pounds of aluminum shipped domestically last year was a record since tracking began in the 1960s. However, persistent and dramatic Chinese aluminum overcapacity is distorting the market and hurting the entire domestic value chain. During a period of record demand, the domestic industry should be growing even more. We are missing a major opportunity to grow high-paying, advanced manufacturing jobs in the aluminum sector. The industry is not asking for special treatment -- only to compete in a fair and free market where all countries follow a rules-based trading system.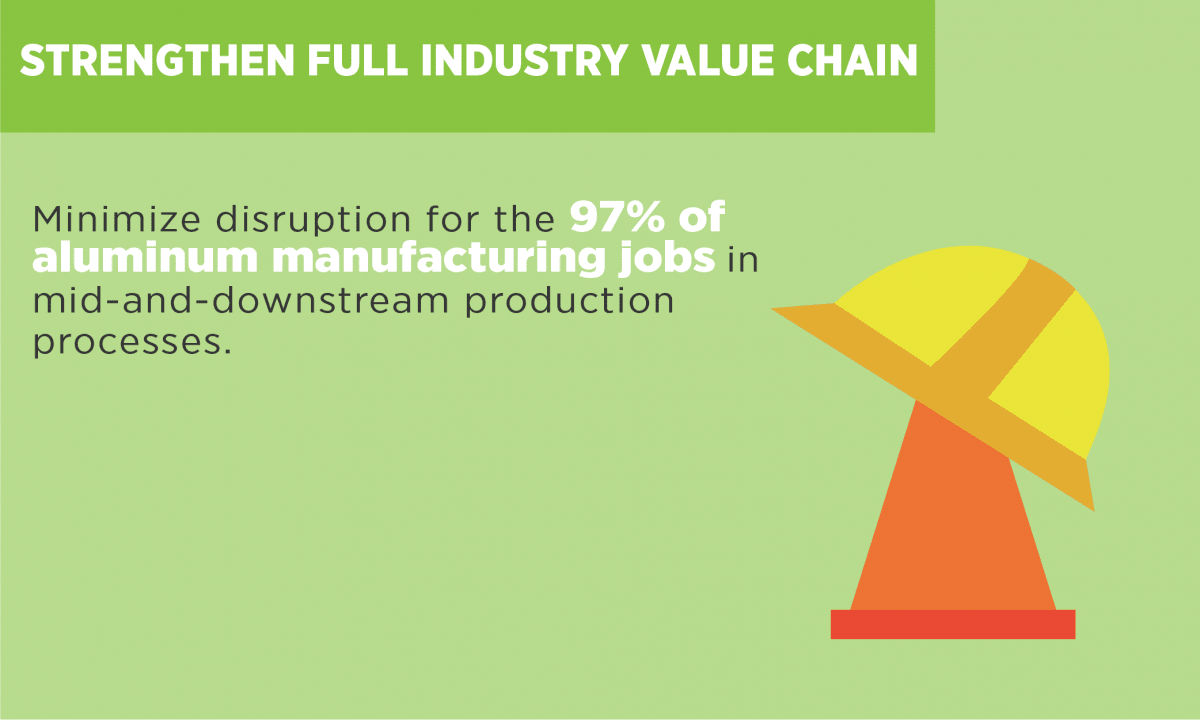 The call to address Chinese overcapacity has grown following the president's tariff announcement and has transcended party lines. From Speaker of the House Paul Ryan (R-WI) to Senate Minority Leader Chuck Schumer (D-NY), to Josh Bolton, President & CEO of The Business Roundtable, to Glenn Hubbard, former chair of the U.S. Council of Economic Advisers, more and more people are recognizing that Chinese overcapacity is root of the problem and the solution is a negotiated, government-to-government agreement.
Visit Getting Trade Right to learn more about the Chinese overcapacity and the steps the Aluminum Association has taken and continues to take to address this consistent threat.